Due to the outbreaks of Covid-19 in several cities across China, restrictive measures have been put in place which may affect communications and freight movement. Please kindly see the details below: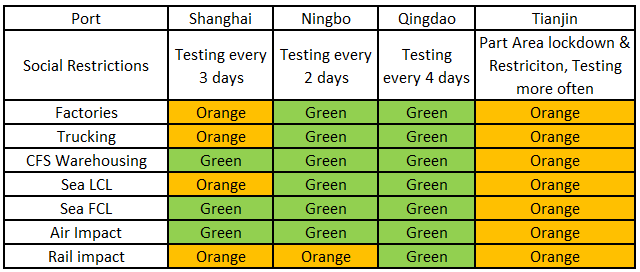 RED = lockdown - high risk
ORANGE = Regular testing and delays expected - medium to high risk
YELLOW = Medium impact
GREEN = No lockdown - Low impact
Shanghai
Shanghai is now all back to normal, but as there are still a few Covid cases occurring across the city, we are still advising our Shanghai team to continue WFH for the safety of themselves, which does not have any impact on our daily operations.
But for now truck are still operating with permits, Ligentia could provide pick up service to support vendor deliveries, as long as factories confirm their location allows Shanghai trucks to enter.

Ningbo
Per latest Covid preventive policy in Ningbo, Nucleic acid testing is requested for trucker one time per each 24hours, and all citizens one time per each 48hours.
Our Business and Customers are effected in the following ways:
Terminal and depot drivers must provide a Green Code and a 24-Hour Negative Nucleic acid test to do the activity of empty pickup/laden gate-in those area. Green Code must have no '*', which means the driver hasn't been to a mid-high Covid area over the past 14 days.
Warehouse in Ningbo Beilun area, as well as BLP warehouse, drivers must provide Green Code and a 24-Hour Negative Nucleic acid test.
With the exception of Keqiao Shaoxing City, trucks are running as usual in other areas of Zhejiang province, but still cannot serve the Shanghai area.

Qingdao
For now, COVID situation is in good control in general.
Testing is required every 4 days
Warehouse, terminals, and Airport are under normal operation.
Drivers will need a 48-hour negative Nucleic acid test to be able to carry out pick up and deliveries.

Tianjin
Situation is getting better in Tianjin:
Compulsory testing required almost daily for some areas and people are required to stay where they are. Most pubic spaces and some subway routes have been closed. Many companies have initiated work from home protocols.
Warehouse, Terminals, and Airport still under normal operation, but please expect delays
Drivers will need a 48-hours negative Nucleaic acid test to be able to carry out pick ups and deliveries. Expected delays due to some areas being blocked, and with more formality to coordination.
Ligentia TSN team are now back to office

Shenzhen, Guangzhou, Xiamen (Normal Operation)
Our team will continue to monitor the situation closely and keep you informed of ongoing developments. We continue to prioritise a high-quality service for all of our customers and we thank you for your support and understanding during this time.