Due to the outbreaks of Covid-19 in several cities across China, restrictive measures have been put in place which may affect communications and freight movement. Please kindly see the details below: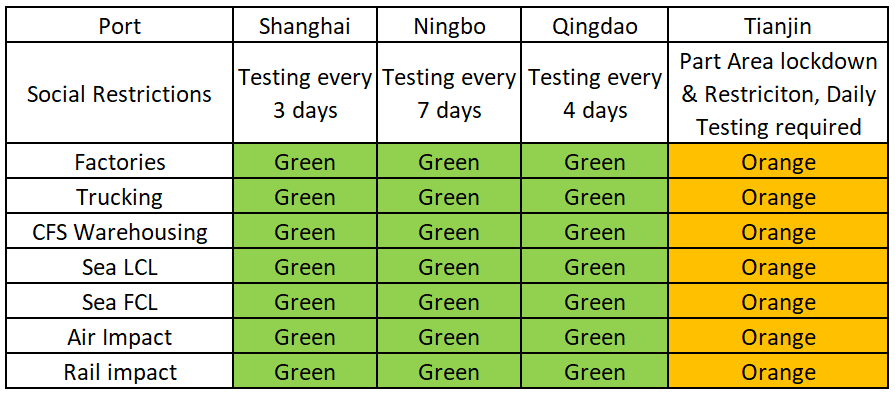 RED = lockdown - high risk
ORANGE = Regular testing and delays expected - medium to high risk
YELLOW = Medium impact
GREEN = No lockdown - Low impact
Shanghai
With sporadic cases occur, isolated areas in Shanghai will be placed under closed-off management from time to time. Citizens are required to do regular nucleic acid testing to access public areas such as offices, warehouses, shopping malls, etc. However, will not have impact on our business for now.
> A 48 hours validated Nucleic acid testing is still mandatory for cross-province trucking service.
> All the operation in port, terminal and warehouse are currently in normal status, but delay is expected.
Please note that almost all cross-provincial trucking services are subject to delays of 1 to 2 days due to the current control policies in China including Xiamen, Shenzhen and Guangzhou. Nucleic acid testing are required more frequently then before.
Ningbo
Per latest Covid preventive policy in Ningbo, truckers are required to complete nucleic acid testing every 24 hours, and all other citizens every 7 days.
Terminal and depot drivers must provide a green code and show that a negative nucleic acid test has been completed in the last 48 hours to pick up empty containers and/or laden gate-in. Green code must have no '*', which means the driver hasn't been to a mid-high Covid area over the past 14 days.
For the warehouse in Ningbo Beilun area, as well as the BLP warehouse, drivers must provide green code and show that a negative nucleic acid test has been completed in the last 24 hours
Tianjin
Since the end of last week, the outbreak in Tianjin has started to grow serious, with more positive cases found in major city-wide testing. Colleagues from TSN are now WFH. Some areas were under close-off management. Seaports, airports and warehouses operation are still operating normally, but with reduced efficiency.
Trucking on Pick up & delivery remain normal so far , reservation in advance demanded . Delay may happen due to more strict policy and more frequent inspection required.
Warehouse, terminals, and Airport are under normal operation, but please expect delays.
Drivers will need to show a negative nucleic acid test has been completed in the last 48-hours to be able to carry out pick ups and deliveries.
Our team will continue to monitor the situation closely and keep you informed of ongoing developments. We continue to prioritise a high-quality service for all of our customers and we thank you for your support and understanding during this time.