Maersk have released the below information with regards to the strike action taking place in Felixstowe. Our teams will be in touch regarding any affected containers.
Maersk advisory:
In the interest of providing our customers with reliable news on latest developments, A.P. Moller – Maersk is providing an update on the strike action at the Port of Felixstowe, together with our contingency plans and actions.
Hutchison Ports and the Union Unite have been unable to reach an agreement after a revised pay offer was put to workers but rejected by the hourly branch of Unite. The staff branch of Unite & Police Federation of Felixstowe Dock and Railway Company have agreed to put the offer to their members for ballot. At this moment, no further talks are scheduled.
Impact on the Vessel Line-Up
We expect the strike action to have significant impact to the vessel line up and are actively working along with vessel partners to mitigate risk and disruption as much as possible. At present, we will not be diverting any cargo to other UK or North European ports. While we are keeping all calls in Felixstowe, we expect some ETAs to be either significantly advanced or delayed in order for us to maximise available labour immediately before and straight after the strike period.
Our current contingency plan is based on eight days of continuous strike action from 21 August until 29 August and is subject to change as the situation evolves further.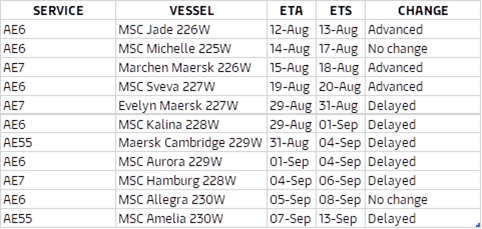 Correct as of the date of this advisory
Impact on Bookings
We will continue to accept dry exports for affected Felixstowe vessels in line with the published vessel receiving windows, which remain subject to availability. If you are arranging merchant haulage for an export job during this period, please be aware of vessel receiving windows and plan accordingly. For carrier haulage export jobs, we plan to stage the boxes inland where possible.
Due to the risk of reefer points not being available, we will be unable to accept any new live reefer bookings for Felixstowe vessels affected by the strike. However, we may be able to offer an alternative exit port in order to keep your cargo moving. For bookings already in the system and confirmed, we will be in touch to discuss your option. For all other instances, please don't hesitate to contact your Customer Experience or Sales teams to discuss further options.
Other Impacts
While we do not plan to offer mitigation of demurrage and detention charges as a result of strike action, we will keep it under review as the situation evolves and we continue our discussions with the Port.
At the moment, we are planning ahead for continuous strike action for the eight-day period and the possibility of the port being shut to empty returns. Should this happen, we will be unable to offer empty restitution inland so for merchant haulage jobs, we would ask you to plan accordingly.
For cargo currently at the terminal, we strongly encourage you to please pick it up as soon as possible. We can offer Carrier Haulage throughout this and next week to keep your supply chain moving. For convenience, our live haulage availability can be found here.