On Monday 27 February, the UK government and EU agreed in principle a new deal to tackle issues caused by the Northern Ireland Protocol.
The protocol is the part of the Brexit deal which sets Northern Ireland's trade rules and keeps it inside the EU's single market for goods. It keeps the Irish land border open but means products arriving into Northern Ireland from the rest of the UK are subject to checks and controls.
The new deal – the Windsor Framework – should reduce the friction on Great Britain-to-Northern Ireland trade.
Green lanes and red lanes
The deal centres around the concept of green lanes and red lanes.
British goods staying in Northern Ireland will use the green lane at Northern Ireland ports and will face minimal paperwork and no routine physical checks.
Goods due to travel into Ireland will use the red lane and will face customs processes and other checks at Northern Ireland ports.
In order to use the green lane, businesses will need to register as a trusted trader under the new United Kingdom Internal Market Scheme (UKIMS). Supermarkets and other businesses that are members of an existing scheme will be automatically moved onto UKIMS. A wide range of other businesses will also qualify for UKIMS, including those based in Great Britain with no physical premises in Northern Ireland.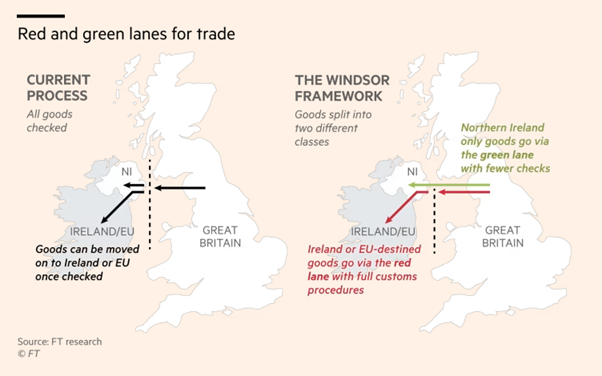 Source: FT research
The government says the new deal will address the added bureaucracy that has been a major impact of the protocol. Businesses moving goods through the green lane will no longer need to provide a supplementary declaration.
The government has also committed to retaining the Trader Support Service to help businesses with trade paperwork.
Businesses do not need to take any action right now and should continue as per current arrangements. The government has said it will consult and work with businesses over the coming months ahead of implementing any changes required by the new arrangements.
Online shopping parcels
Under the original protocol, all parcels being sent from Great Britain to Northern Ireland consumers would have required a customs declaration.
A "grace period" meant that part of the protocol was never implemented. The new deal effectively makes this grace period permanent, although there will be some requirements for logistics companies. Authorised parcel operators will have to share data with the government to monitor and manage any risks of smuggling in the EU market.
That data-sharing process is expected to be in place by September 2024.
Food and horticulture
The EU's strict rules and processes for food products entering its single market have meant trade in food products from Great Britain to Northern Ireland has seen some significant impacts.
Under the original protocol, some Great Britain products deemed by the EU to be higher risk should have been banned from Northern Ireland. The new deal means this ban has gone for good.
The new agreement means UK public health and safety standards will apply for all retail food and drink in the UK internal market.
Traders moving food using the green lane will only need to complete a single certificate for each lorry movement rather than multiple certificates for each load. Identity checks will be phased down from 100% today to just 5% by 2025, and physical checks on green lane loads will no longer be routine.
"Not for EU" labels on food products sold in Northern Ireland will be introduced. From October this year, prepacked meat and fresh milk will have to be individually labelled in this way, with labelling of other goods being rolled out by July 2025. The government has said it will provide financial support to help businesses with the labelling change.
The original protocol also meant new requirements for inspection and certification of plants being moved from Great Britain to Northern Ireland. Some products, like seed potatoes, were entirely banned.
The new agreement means all plants and seeds will be moved under the exiting UK-wide plant passport scheme. The seed potato ban will be revoked this autumn, as will a similar ban on "high risk" trees and shrubs.
Access to UK medicines
All medicines in Northern Ireland were subject to EU rules and authorisation under the protocol. This meant for novel medicines, it was the European Medicines Agency, not the UK's Medicines and Healthcare Regulatory Agency (MHRA), which approved medicines for the Northern Ireland market.
Under the new agreement, patients in Northern Ireland should be able to access the same medicines in the same packs, with the same labels, as the rest of the UK – permanently protecting the supply for UK medicines for Northern Ireland.
Businesses will only need to secure approval for a UK-wide licence from the UK's MHRA to supply medicines to Northern Ireland, and will be able to produce a single medicines pack for the whole of the UK, including Northern Ireland.
VAT and excise rules
Under the original protocol, EU rules for VAT and excise apply to goods in Northern Ireland.
The new deal allows Northern Ireland to diverge from EU rules on the structure of excise duties, meaning that a new UK plan which is focused on taxing beverages on their alcoholic strength can apply in Northern Ireland.
The deal on VAT means the UK can apply reduced VAT rates on goods supplied and installed in immovable property located in Northern Ireland, even if the applicable UK VAT is below EU minimum rates.
The UK can also apply reduced VAT to a higher number of categories of goods than allowed under EU law.
Read more in the UK.GOV press release here.
Sources