A fresh tranche of trade data shows that the historic series of supply shocks rattling the global economy for three years has subsided, boosting expectations for cooler inflation in the months ahead.
The improvement in global supply chains is "resonating through almost every indicator," HSBC said in a research note earlier this week. Delivery times are falling, port congestion is close to normal, product shortages are receding and global inventory levels are rebalancing.
"Over the course of the past year, but in particular in 2023, global supply chains have eased remarkably quickly — removing one of the biggest headaches in terms of activity and inflation," the London-based bank said, while noting that the trend is largely the result of subdued global demand for goods.
The return-to-normal case was strengthened Wednesday by figures in the US that showed the consumer price index rose 3% last month from a year ago, the smallest advance in more than two years.
Read More: Inflation at 3% Flags End of Emergency, Turning Point for Fed
But supply constraints have given way to another problem: weaker demand. Developed countries have seen a 2.5% drop in global trade volumes in 2023 compared with a year ago, HSBC said, and some Asian economies — like South Korea and Vietnam — have seen export levels fall by as much as 15% year over year.
China's Slump
Figures released Thursday showed China's exports have fallen for four of the six months so far in 2023. Shipments to the US dropped almost 24%, the 11th straight month of declines and the worst result since the slump at the beginning of the pandemic.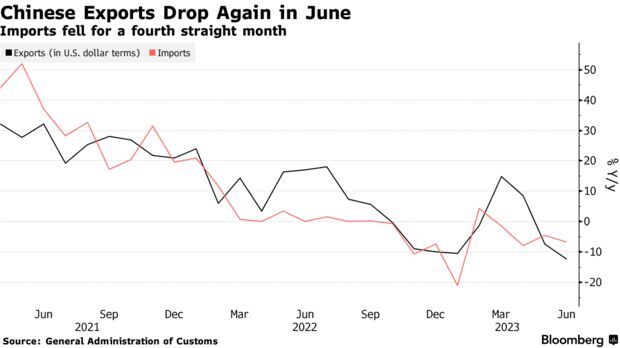 (Image source: Bloomberg)
In the UK, a government report today showed the value of goods exports slumped 4.4% in May — driven mostly by weaker trade with the European Union. Stripping out the impact of inflation, Britain's shipments abroad still fell by 3.2%.
Lower consumption has enabled companies to reduce their bloated inventories and help lead to a 90% drop in global shipping costs from their peak levels in 2021.
S&P Global Market Intelligence said it expects a full recovery in global trade flows to emerge later this year. "Evidence from manufacturing managers, seaborne shipping and corporate inventories indicates we are most, but not all, of the way back to historical levels and patterns," S&P said in a recent report.
But risks to the outlook remain, including rising US-China trade tensions, Russia's war in Ukraine, potential labor strikes, and low water levels in the busy waterways like the Panama Canal or Rhine River — any one of which could have a negative impact on the recent normalization of global supply chains.
Source: Bloomberg